Sporting Successes
Tameside Lacrosse Winners 2020
On Wednesday 26th February 2020 we had an amazing night as our A team became Tameside Champions defeating Manchester Road in the final meaning we qualified for the school games . Our B team also finished in third place, receiving bronze medals!
Tameside Sports Awards 2019
On Friday 27th September 2019, Greenside were lucky enough to be nominees for the School Commitment to PE and Sport awards at the Pride of Tameside Sports Awards. The awards, which took place at Dukinfield Town hall, featured inspiring award winners from clubs and individuals around the borough. Our award was right near the end but we were delighted to receive an award for coming second place just behind Airlies. Thanks to all parents and staff who have helped support us and gain this recognition.
Tameside Girls Football Champions 2019
On Thursday 25th April was the culmination of the Tameside Girl's Monthly league at Curzon Ashton. Our A team were in the top Cup comepetition and went unbeaten throughout the evening, meaning that we became Tameside champions for the third year in a row! Our B team were in the vase competition and finished in third place earning bronze medals!
Tameside Girls Cup Winners 2019
Just one week after after becoming league Champions our girls football team completed a memorable double by becoming the first ever Girl's Tameside Cup Winners. We defeated local rivals Moorside 5-0 with 3 goals coming from our hat trick hero Daisy.
Pride of Tameside Sports Awards Nominees 2018
On Friday 28th September 2018 three Greenside staff were fortunate to attend the Pride of Tameside awards at Dukinfield after we were nominated for School Commitment to PE and Sport. We didn't win on the night but it was great to be recognised for our hard work and fantastic children and we also had chance to meet the other nominees on the night. We hope to be back and do one better next year.
Greater Manchester Girls Futsal Winners
On Thursday 26th April our year 5 girls had an amazing victory at the Greater Manchester Futsal championships at Platt Fields. This means they go through to the North West championships and are officially the best young Futsal team in Manchester.
Sport Relief Adult and Child Mile 2018
All through Sport Relief week all the classes have been running a mile for sports relief alongside their parents and other adults. As well as getting active and getting the community moving it has also helped to raise over £300 so far this week. As well as this we have managed nearly 1 million steps this week.
Girl's Football National Champions 2017
Our amazing year 6 girls became English national champions at the Danone Nations Cup final at Stoke City's ground in May. It was an incredible day and we are so proud to have national champions at our school. Read all about it here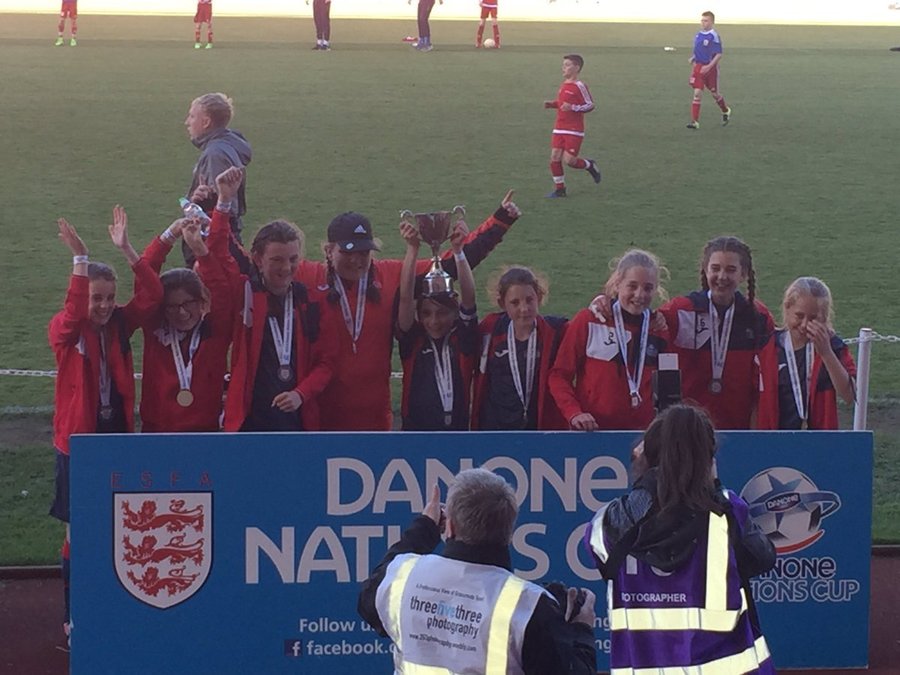 Girls Futsal Champions
After a great performance to qualify on Wednesday 6th December we headed to the Futsal finals at Tameside College. After some tough games against Manchester Road, Fairfield and Arlies the points we counted up and.... we won! Congratulations for an amazing effort.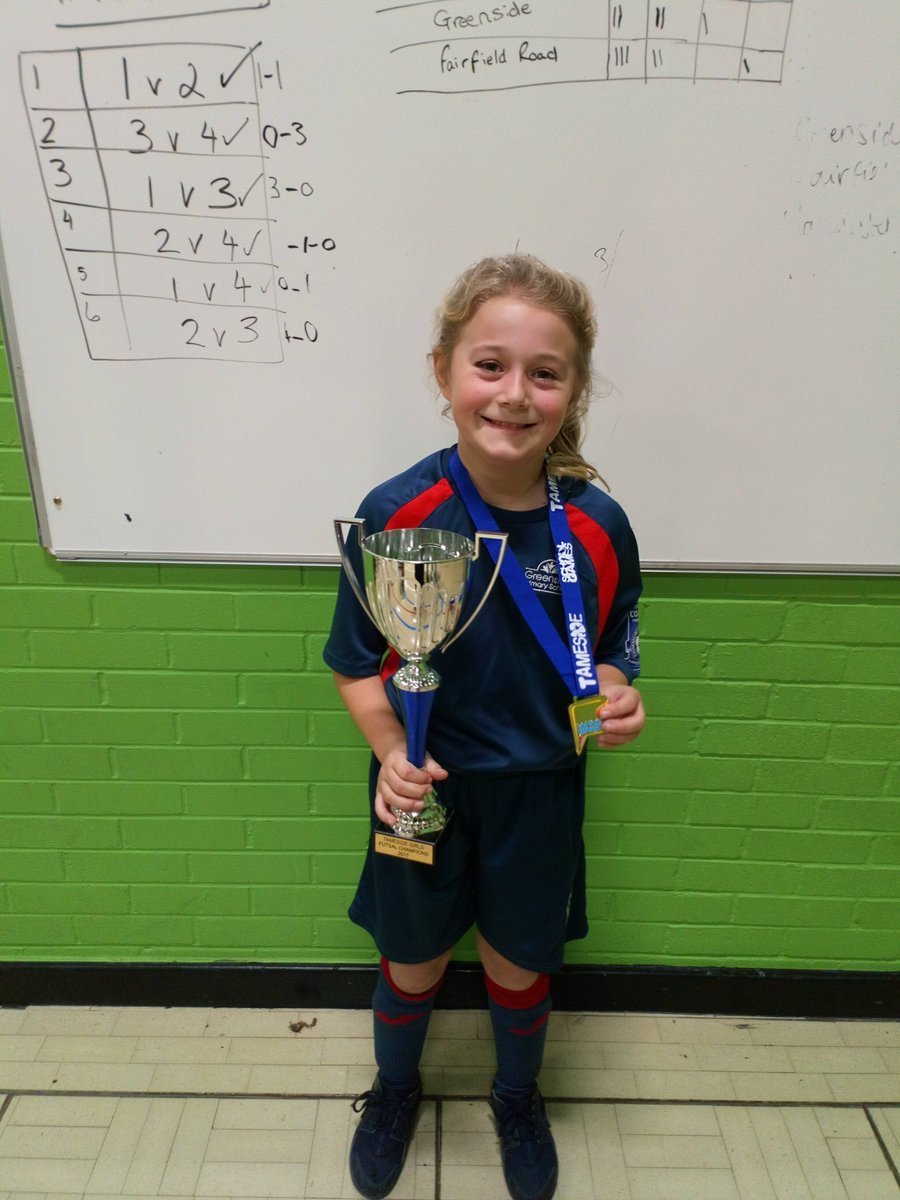 Tameside Handball Winners 2019
On Tuesday 10th December 2019, we travelled to take part in the Tameside handball championship at Astley Sports Village. Our B team performed well across their five games, winning two and losing three to finish in 4th place overall. A super effort. Our A team won three and drew one of their first four games. It all came down to the last game for Greenside A as we knew if we beat Manchester Road, we would be Tameside champions. In a close game, we produced our best performance to win 4-2 and win the tournament! Another fantastic result for Greenside.
Tameside SSP Inspire Award WInners 2019
Monday 9th July was a great day for Greenside as we headed to the Village Ashton for the 2019 Tameside School Sports Awards. We ended up with not one but two main awards, winning the award for Inclusion Project of the Year and Commitment to Competition. As well as this our 8 Young Ambassadors were awarded the very special Young Ambassador of the Year Award, a fantastic day!
Greater Manchester Winter School Games Lacrosse 2019
After the fantastic result in the Tameside competition we got the chance to attend the Greater Manchester Winter Games. The children were all very excited for their day out of school as we headed to the Manchester Regional Athletics centre for the opening ceremony. After the ceremony we went to the Armitage centre to play Lacrosse against schools from across Greater Manchester. The standard was very high and we found it tough at first but improved massively over the course of the day and finished up as 10th overall in our region.
Tameside Girls Futsal Champions 2019
On Monday 28th January we took on Oasis Broadoak and Fairfield in our attempt to be Tameside Girls Futsal Champions at Droylsden Juniors. Our girls played brilliantly to go unbeaten and were crowned Tameside Champions for the 2nd year running. We now go on to represent Tameside in the Greater Manchester Championships
Tameside Sports Awards 2018
On July 9th we travelled to the Village Hotel in Ashton to attend the Tameside School Sports Awards ran by Tameside School Sports Partnership. As well as receiving our School Games Gold we were also given an award for Health and Active Lifestyle Project of the Year 2018 for our work to improve children's health and fitness in school through interventions and the daily mile. A fantastic achievement and one that made us very proud as a school.
Tameside Girls Football Champions 2018
Our girls achieved the amazing achievement of becoming champions in the grand final of the Tameside Girls Monthly League. We came up against some tough teams en route to winning but played some excellent football. As well as this our girls won the Premier League tournament at the same event, meaning that both Tameside teams came home with trophies.
Year 3 Road to Old Trafford Tameside Winners
On Wednesday the 17th January 2018 we took a Year 2 and Year 3 team to the Road to Old Trafford Tameside heats at the famous cliff training ground of Manchester United. The year year 3's did amazingly winning 5 and drawing one in their group. This meant they played in the final which they impressively won 4-1. They will play in the final at the AON training complex in May/June! Well done!
Tameside Primary School of the Year for Sport
Everyone at Greenside was thrilled to be named Primary School of the year by the Tameside Sports Partnership at the Inspire Tameside School Sports award. We were presented the award along with our School Games Gold by Olympic Medallist and Gymnastic superstar Beth Tweddle.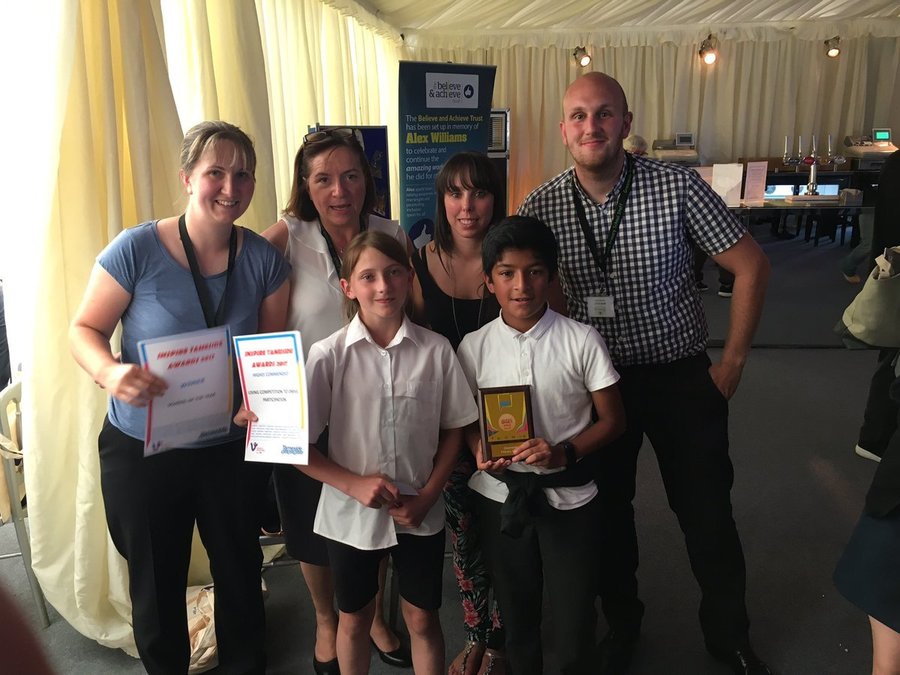 Tameside Representatives in Greater Manchester School Games
In July 2017 we attended the Greater Manchester school games after finishing runners up in The Tameside School Games Mini Tennis tournament. The children enjoyed the event, representing Team Tameside and meeting the Lady Mayoress.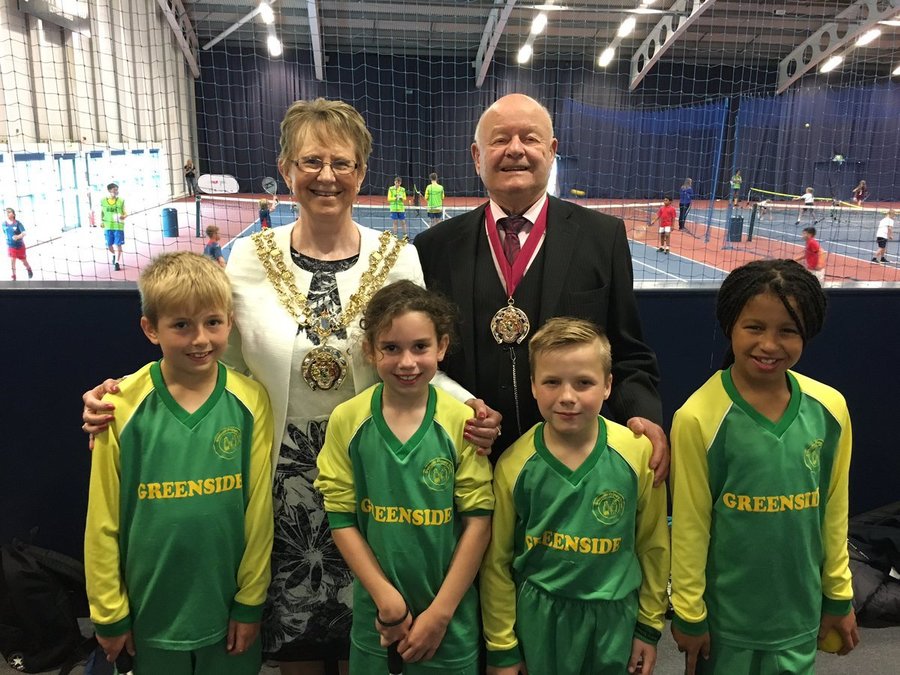 Boys and Girls Tameside Futsal Winners 2019
The first futsal event for us this year would see the girls head over to Tameside College to participate in the Tameside futsal heats. Scoring goals without conceding would be the story of the night for this group of girls as come the end of the night the scoreboard read played four, won four, scored lots, conceded none and maximum points on the night.
After the great success from the girls only two nights earlier, it was time for the boys turn. Over our first three games we played some great football and defended well to win all of our games. Our final match was to be against our rivals Manchester Road. Again, we knew this would be a tough game but our teamwork paid off and we came away with a 2-0 win. Champions of Tameside!
Tameside Snow School Games Winners 2019
Tameside SSP and Chill Factore gave Greenside, along with 8 other schools, a fantastic opportunity on Monday 25th March as we had the chance to take part in the Tameside School Snow Games 2019. This gave the chance for 10 of our year 5 children to take part in such varied events as Climbing, sledging, igloo building and skiing. It wasn't all fun though as we worked with our Friends at Moorside to earn points throughout the day for speed and accuracy in each event in a bid to become champions. When the points were added up it was revealed Greenside, along with Moorside, were named Tameside Snow School Games winners 2019.
North Tameside Schools Cup Finalists
Our boys team made the final of the North Tameside Schools Cup at St Damien's high school by beating Broadoak 8-1 in the semi final. We just missed out on becoming champions in the final against Moorside but are very proud of our boys making the final and being so close.
Representing Tameside in the Greater Manchester Cross Country Championships
On Saturday 13th January one of our year 4 children finished 3rd in the under 9 boys race out of 110 children. It was the 7th fastest time of all boys that day including under 11 and because of this he qualified for the Tameside Team in the Greater Manchester Cross Country Championships.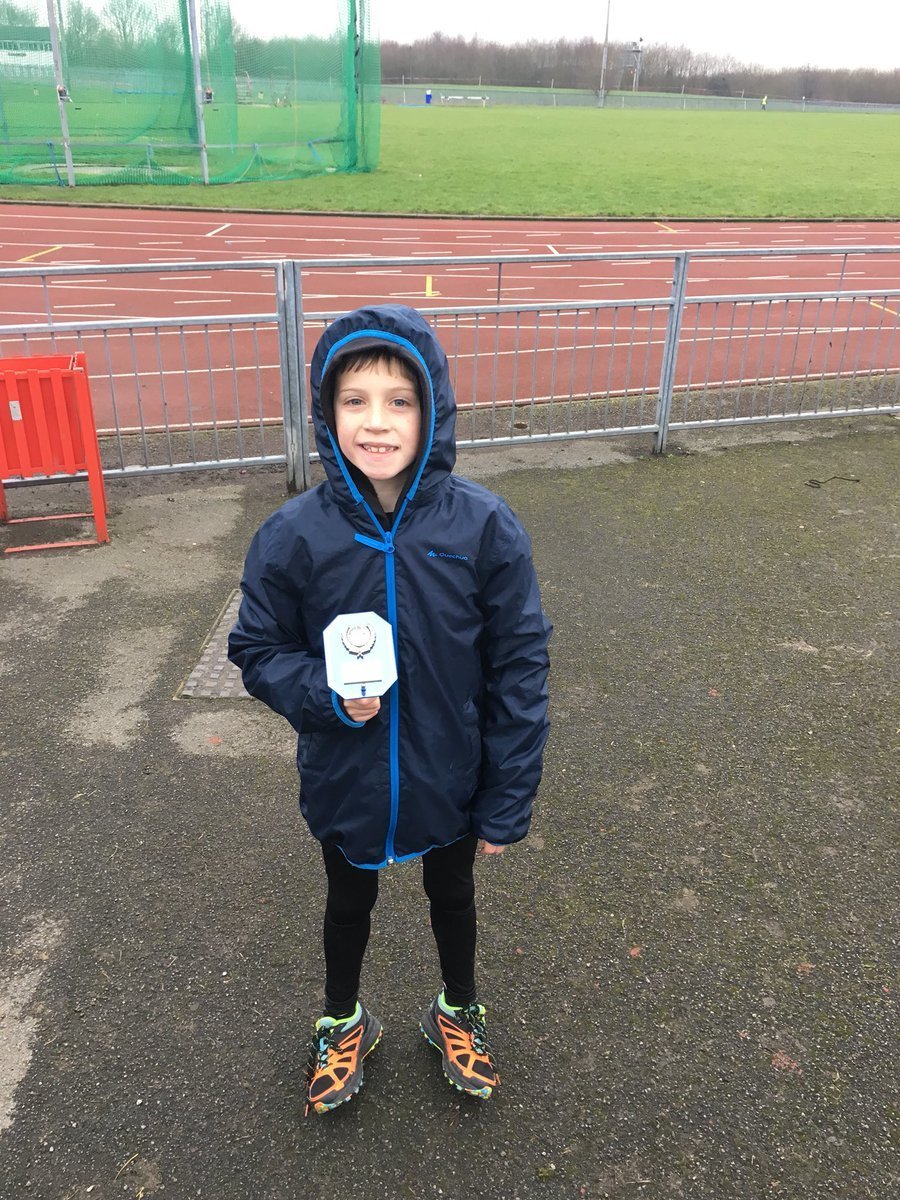 Hockey Festival Respect Winners
On the 21st November 2017 we took 3 teams to a Hockey Festival at Rayner Stephens high school. As well as playing some excellent hockey we showed showed school games values like respect and determination throughout and were awarded a trophy for displaying these throughout.
Danone Cup Boys Tameside Champions
Our success continued when we became the winners of the Large Schools Tameside Danone Cup with an excellent win over Moorside in the final. We are excited to go to the next stage of the competition.